2006 year Press Release
TaiwanIHA launches the 2006 Nursing Leaders' Training Program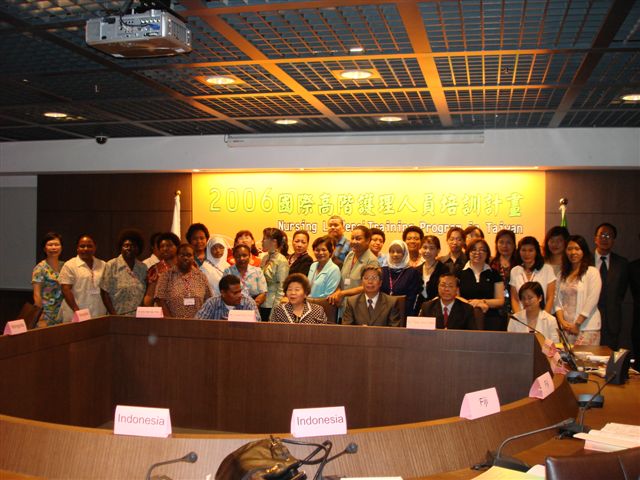 1. TaiwanIHA has commissioned Taiwan Nurses Association to launch the 2006 Nursing Leaders' Training Program. The program will be held on August 1 at the Foreign Service Institute. 24 senior nursing staffs from 12 countries including the Solomon Island, the Marshall Island, Kiribati, Palau, Nauru, Fiji, Papua New Guinea, the Philippines, Indonesia, Vietnam, Bangladesh and Mongolia will participate in the program.
2. The purpose of the 2006 Nursing Leaders' Program is to give back to the international community using Taiwan's premium nursing achievements to assist participating countries in elevating their health care quality, and to encourage bilateral cooperation on health and medical care. Participants are among the elite nursing staff in their respective countries, and will receive training at eight medical centers after the opening ceremony on August 1. The program will end on August 22.
3. Since its inception of in January, TaiwanIHA has engaged in multiple international humanitarian aid and cooperation projects. When the Philippines was dealing with the destruction caused by the landslide on February 17, the following day TaiwanIHA immediately airlifted nearly 900 kg of emergency kits to the Philippines' National Disaster Relief Coordination Center. When a major earthquake hit Jogjakarta in Indonesia, TaiwanIHA sent three emergency medical aid teams with rescue and medical equipment to assist with post-disaster reconstruction. Earlier this April, when avian flu broke out in Burkina Faso, TaiwanIHA sent a team of specialists with disinfectants and protective equipment to assist with disease prevention and education. On June 9, a delegation was sent to Chad to prevent avian flu from spreading. On international health care cooperation, TaiwanIHA collaborated with the world-renowned International Center for Migration and Health (ICMH) on the production of avian flu prevention booklets, which were published in multiple languages. Also, TaiwanIHA launched the 2006 Global Medical Instruments Support and Service (GMISS) to collect used but still usable equipment from hospitals to donate to friendly allies that are in desperate need of medical resources.
4. In addition to the 2006 Nursing Leaders' Program, TaiwanIHA has also commissioned China Medical University to launch a "Professional Training Camp on Alternative/Traditional Medicine". The camp is scheduled to run from September 18 to October 3, 28 doctors from 22 countries are invited to attend the camp.