2007 year Press Release
TaiwanIHA Sends Expert Disease Prevention Mission to Kenya to Control Rift Valley Fever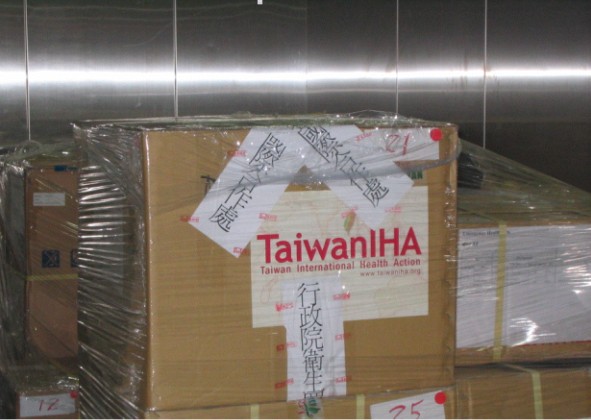 Since October, 2006, abnormally heavy rain has caused severe flooding in East African countries. As a result, malaria and diarrhea have become a serious threat to health there. Rift Valley Fever (RVF) has also been detected in Kenya and, as of January 12 this year, 220 suspected cases had been discovered in North Kenya and coastal provinces, causing 82 deaths, a fatality rate of 37%. The Garissa region has been the most heavily affected, with 132 suspected cases and 54 deaths. The Kenyan government, UNHCR, WFP, International Red Cross and other international humanitarian organizations are urging the international community to provide assistance.
After sending an advance team to Kenya last December, on January 14 Taiwan International Health Action (TaiwanIHA) then sent a second mission, comprised of nine experts from the Center for Disease Control (CDC) and TaiwanIHA members, with spraying equipment and medicines to the affected areas. A member of the medical mission from the ROC (Taiwan) Embassy in Malawi will demonstrate the operation of the equipment and other related matters, as well as donate 24,000 mosquito nets, worth US$150,000, to Kenya.
The TaiwanIHA mission arrived in Kenya on January 15, from where it has been holding daily telephone conferences with the CDC emergency operations center as well as emailing progress reports. It has also called on high-ranking officials of related departments in the Kenyan government. Kenya has repeatedly expressed its appreciation to Taiwan for sending a mission to assist in their efforts to control and treat the disease. It has arranged for the mission to visit its public health laboratories and related facilities in the hope that Taiwan can assist in improving the quality of the laboratories and personnel training. It also hopes to arrange long-term medical and health cooperation with Taiwan. The mission also visited the laboratory set up by the US CDC in Kenya, with both sides agreeing to make steps towards cooperation. The mission flew to Garissa on January 17.
This kind of emergency relief and medical assistance illustrates Taiwan's contributions and devotion to international medical health. Such endeavors help our medical personnel gain information and experience of contagious diseases, and help enhance international health cooperation.