2007 year Press Release
Dr. Jon Snaedal, President of the World Medical Association, visits Taiwan accompanied by his wife, and meets with TaiwanIHA officials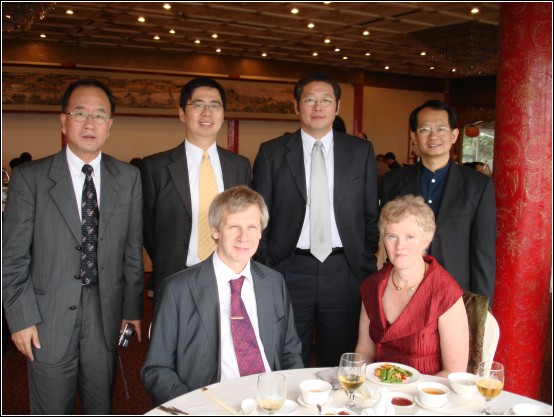 At the invitation of Ambassador-at-Large Dr. Yung Tung Wu, who is also a member of the Taiwan Medical Association, and Taiwan's Ministry of Foreign Affairs, Dr. Jon Snaedal, President of the World Medical Association, will visit Taiwan on November 11-17, accompanied by his wife, Ms. Gudrun Karlsdottir.
During the trip, the couple's first ever to Taiwan, Dr. Snaedal will exchange views with officials from several governmental agencies and scholars on the Taiwan government's medical policies and international medical and health cooperation. This will help Dr. Snaedal gain a better understanding of Taiwan's concrete contributions and international efforts to prevent the spread of pandemics.
Dr. Snaedal and his wife will receive an audience with President Chen Shui-bian at the Presidential Office, where they can exchange views on related issues. Moreover, the couple will attend the ceremony to celebrate the 60th National Doctor's Day on November 12. Dr. Snaedal will also call on the Ministry of Foreign Affairs, Ministry of Health and Welfare, Center for Disease Control, and National Health Insurance Bureau.
Dr. Snaedal will also attend a seminar on dementia hosted by Chang Gung Memorial Hospital. Dr. Minn-Fu Chen, superintendent of the hospital's main center; Dr. Che-Kun James Chen, a research fellow at Academia Sinica; and other distinguished professionals are also expected to participate in the event.
Excursions to Taroko National Park, Buddhist Tsu Chi General Hospital, cultural sites and city landmarks are scheduled for them as well. The doctor and his wife will also tour Yingge Ceramics Museum, National Palace Museum and Taipei 101.
Dr. Snaedal was born in Reykjavik, Iceland and received his education at the University of Iceland's medical school. With specialization in geriatrics, medical ethics, and dementia, he was licensed to practice and teach in both Iceland and Sweden. He was elected president of the World Medical Association, the world's most influential international non-governmental organization in the field of medicine. His term of office, which started in October 2007, is for one year.